I love this Ikea commercial! Luckily I don't have to worry about that happening as I don't have kids, but now that we have a dog in the house I do have to be a bit more careful where I put my toys, especially silicone and jelly ones since they have textures very similar to puppy's chew toys!
I started out storing my toys and DVDs in a drawer underneath my bed but I quickly ran out of room so my goodies now are split up between the drawer and a vintage heart-shaped hat box I picked up on a trip to Louisville years ago. But I'm starting to run out of room again! My Hitachi Magic Wand (a gift from the ever-amazing Ryan Keely) has taken up residence in the little space between the mattress and the wall and I have a huge pile of toys, still in their boxes and waiting to be reviewed that don't have a home yet, so it's time to start shopping for more toy storage. Here are some of my top picks.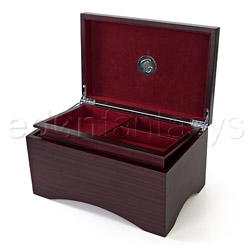 The Original Toibocks is really popular at my porn shop. It looks like a normal jewelry box to the naked eye but if you know the secret to open the hidden latch (hint: it's magnet-powered) the top section lifts up revealing a ton of room to store toys as big as a rabbit vibe. I sell these a lot to people who are parents or who still live at home with their parents since you'd never even guess it was toy storage unless you were in the know!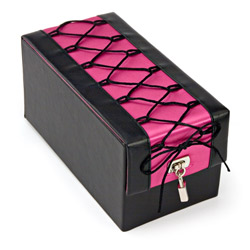 The Devine Toy Box is another big hit at my store. They come in a variety of colors and patterns (a pink box with quilted hearts is the most popular one at the shop) and are lockable. While not as subtle as the Toibocks, the Devine boxes are cute enough to keep out on your bedside table and have enough room to store the basics - some small toys, lube, condoms and even a set of restraints.
This case by For Your Nymphomation is definitely up my alley - it has tons of room for lots and lots of toys and other fun stuff, pockets and straps to keep everything together and it's covered in leopard fur goodness! I'm not trying to really hide the fact that I own toys (hell, I have the Under The Bed Restraint System by Sportsheets perpetually hanging down from my mattress for anyone to see) so I like that the case is kinda flashy but obviously someone trying to be a bit more discreet can order it in black, white, pink, or purple faux-leather.
If you enjoyed this post, maybe you'll like this stuff too: