Here is part one of my list of some of weirdest sex toys (both in good and bad ways) that I could find. I was originally going to just make one list but as I researched I just kept finding more and more strange stuff. So today is dedicated to weird vibrators and the next list will be for the stuff that doesn't buzz!
Hello Kitty Vibrating Shoulder Massager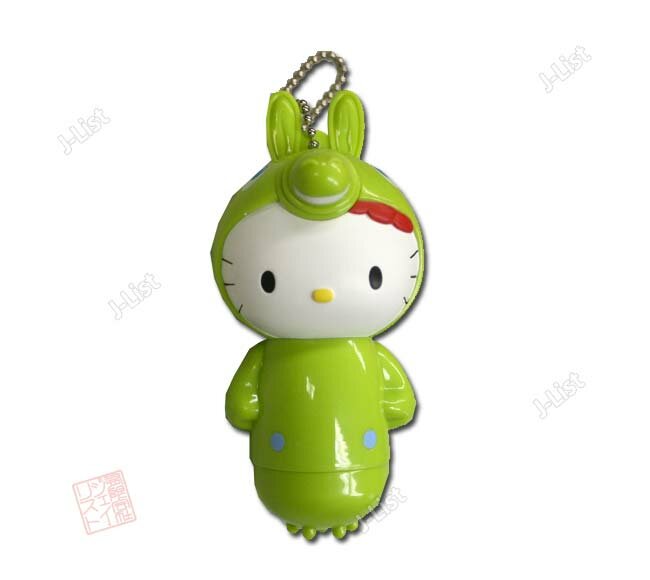 It's no secret I'm a little bit Hello Kitty obsessed. I have a pink tinsel xmas tree sitting on my desk right now covered in HK ornaments. I have a HK toaster oven and waffle maker. I have HK socks, shirts, magents, toothbrushes, and so on and so on…. so why WOULDN'T I want a Hello Kitty vibrator, especially one that disguises itself as an adorable keychain!?
$25.00 @ JList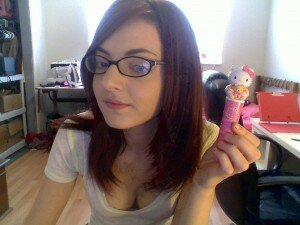 I was lucky enough to recieve the ORIGINAL Hello Kitty vibe (pocket rocket style) from a friend who knows about my obsession. The motor in it is pretty weak though, so it's more of a collector's item than anything else.
Erotic Gunslinger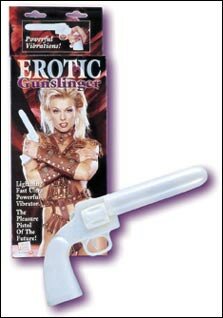 Seriously, do I even need to explain why this is FUCKING AWESOME?!? It's a freakin' vibrator shaped like a revolver…. and that my friends is like one of the coolest things ever.
$25 @ Eve's Erotica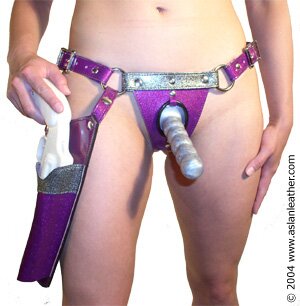 I want a pair of these guns super bad so I can be some sort of lebian cowgirl with the awesome vinyl hostlers and harnesses by Aslan Leather. Swoooon.
The OhMiBod Toys
OhMiBod makes a whole line of really weird but cool vibes that encorporat sound into masturbation.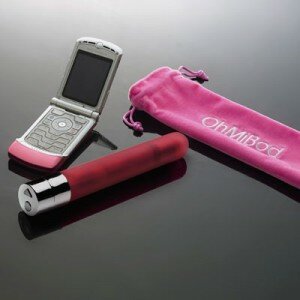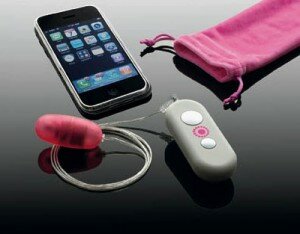 Boditalk + Boditalk Escort vibrate every time a cell phone around you makes or recies a call.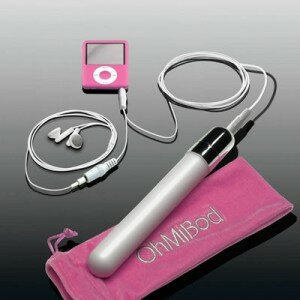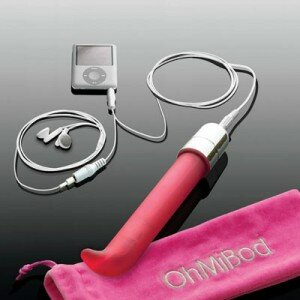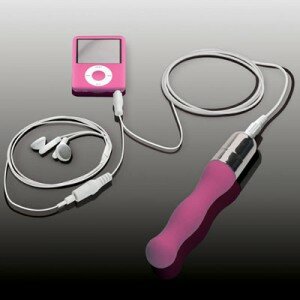 The Orignal and G-Spot OhMiBods and the Naughtiano all attach to your iPod or other music player and vibrate and pulsate to the beat of the music playing.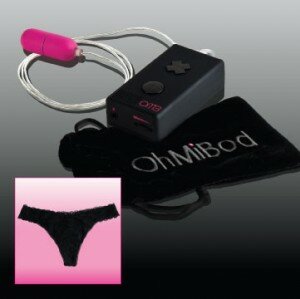 The Club Vibe (my personal favorite) is a vibrating bullet that fits into an included thong (giving you vibrating panties) that vibrates and pulses to any noises around you, from loud music at a club to the sound of people talking.
All OhMiBod toys are available via their online shop
Climax Rabbits Auto Thumper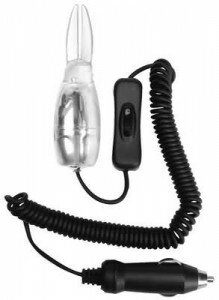 A basic "bullet" style vibe except it plugs into your car's cigarette lighter. I'd imagine this is for people who travel a lot and hate buying batteries? The 110v outlet on my car doesn't work so I wouldn't get this, but even if it did I'd probably crash my car if I tried to diddle myself in traffic.
$16.00 @ Spice Toy
The Vibe-Rider

So you like the idea of the Auto Tumper but you don't have a car… you have a motorcycle. What's a poor girl to do?
This gizmo goes under the passenger seat and attaches to the control box of the bike. It viberates in sync with the revs of the engine making any motorcycle into a sort of Sybian on wheels.
$129 @ VibeRider

The Talking Head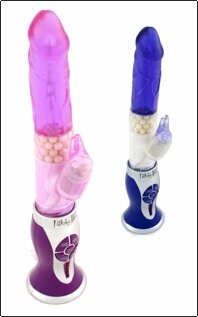 A traditional "rabbit" style vibe (with pearls… a big no no in my book. i prefer metal beads that are on a track. pearls have the tendency to jam and break) with a bit of a twist. The base of the vibe has a speaker that plays sound clips of a man "talking dirty" to you. You can choose from two personas: Kobe's Slow Ride featuring Kobe and Jean-Phillipe the french boy. When i worked at the hustler store we sold these… they broke a lot and the "dirty talk" was laughable at best, but i guess you have to give the creators credit for coming up with such a weird toy.
$125 @ Eros Boutique
If you enjoyed this post, maybe you'll like this stuff too: