30 Dec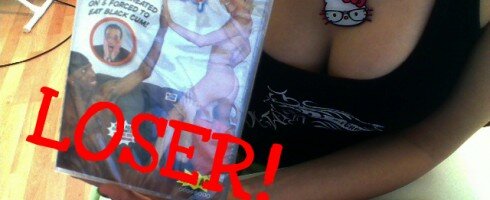 Thank you to everyone who entered by free blu-ray porn giveaway!
I have picked my 5 winners are here they are:
Gen – cause she's awesome and i owe her a ton of stuff anyways
Chriscynical – he is a poet and i didn't even know it
Tom – for his cute "artwork" complete with a giraffe eating my stitched up finger!
Bj Bumgarner – for his drive and determination, as he left a comment every single day until the contest was over.
Keith – for offering to buy me sme hello kitty goodies (hint hint, i added a new pair of panties to my wishlist)
And Jre, our loser for posting such an uncreative and boring comment, will be receiving some lame porn in the mail to match his lame comment. I've had this DVD for over a year now and have been trying to get rid of it. So congratulations, jre.
Sorry to every who entered but didn't win. I wish I had more porn to give you. Stay posi! I will be holding some more contests in the future! And winners, please check your email.