27 Aug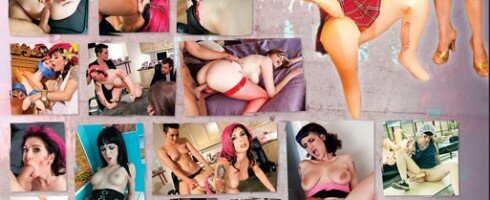 The last time I saw my friend Joanna Angel, super hot lady and empress of the Burning Angel punk porn empire, was at The AVN Show, an porn industry-only convention that was held earlier this month in Hollywood, Florida. I was there to meet with the toy suppliers for my porn shop and Joanna was there to speak on a ton of different panels 'cause she is super hot AND super smart. Since we were both kinda busy I wasn't expecting that we'd get to hang out much, but luckily we ran into each other poolside after all the businessy things had been completed and we got to "ho down" (aka my new made up term for ladies 'bro-ing down') for part of the evening.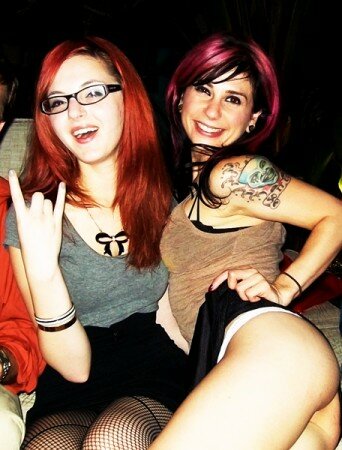 "ho-in' down" at the Westin Diplomat pool
We talked about a ton of stuff, including one of her newest movies, Doppelganger, which is about Joanna and her evil blow-up doll. Filming a movie where the co-star is an inanimate object makes for some funny stories… like how she had to cut up a doll and make a suit out of it so someone could put it on and wear it when they had to film the doll doing things, like the scene with the straw in the trailer.
Doppelganger is available for purchase now at the Burning Angel store and stars Joanna Angel, Phoenix Askani, Jiz Lee, Asphyxia, newbie angel Arabelle Raphael, and Sparky Sin Claire.
click the pictures to see the covers in hi-res
And speaking of Joanna Angel's doppelganger... In '08 I was working the Miami Exxxotica convention for Burning Angel, being Joanna's assistant (aka drink grabber, money-taker, dvd unwrapper, etc). I ended up manning the booth by myself for a little bit while Joanna was speaking at a panel. While she was gone I had tons of guys come up to the booth asking if I was her (…mind you, there was a giant poster with Joanna's picture and name right behind me). We are both Jews with kinda long dark-ish hair but that is basically where the resemblance ends. Sometimes people aren't very observant! You can read an old blog entry (w/ lots of pictures) about Exxxotica '08 over yonder at POPPORN.com