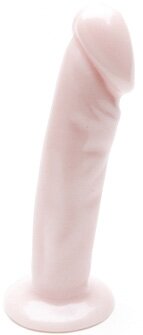 I've never watched that Twilight movie that every girl in the world is freaking out about. The whole Twilight-mania sorta turned me off and sparkly vampires have never really been my thing.
But if sparkly vampires are your thing, or perhap's your girlfriend's thing, Tantus has just what you need. Their Vamp dildo is "a realistic form dildo based appropriately on our Sire's design but with a deathly pale flesh tone reminiscent of the new moon's glow." I love Tantus' toys -- they are made out of the highest quality of silicone so they are hygienic and safe, feel great and will last a really long time.
The Vamp starts shipping today so pick one up to make your Edward Cullen (or whatever) fantasies come sorta-true.
If you enjoyed this post, maybe you'll like this stuff too: