i sort of have a problem…. a shopping problem! when i get upset i go shopping and this weekend i was upset. so i went out for a few hours to blow off steam and i came home feeling much much better. i bought a lot of stuff i didn't need- underwear and shirts and leggings but most importantly NEW SHOES!
i'm mostly a jeans (well right now with the way the weather is, shorts) and tee-shirt kind of girl but i have a weird thing for high heeled shoes… especially if they are shiny and black and super high! i don't have many opportunities to dress up fancy, so i have a closet full of sexy shoes that i barely ever wear… . and on sunday i added to the collection with what i think now are my favorite heels EVER.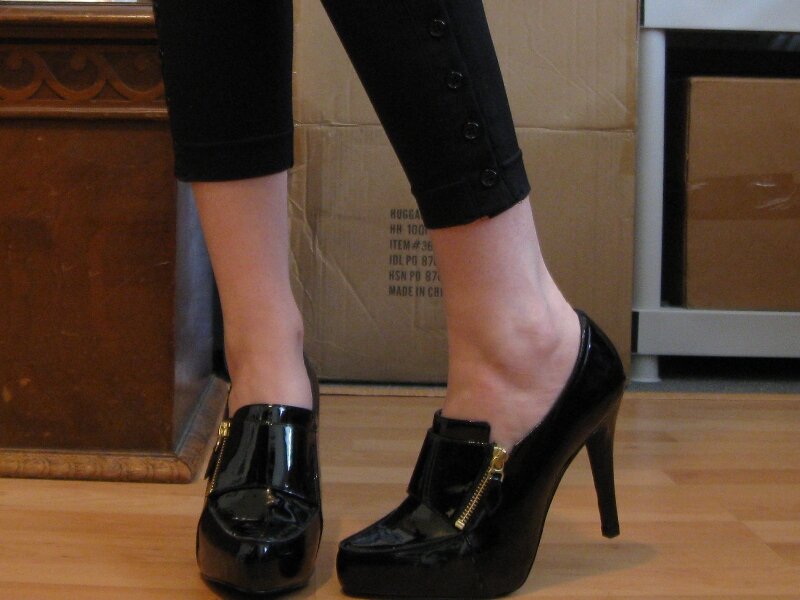 they are very "slutty secretary" which is by far my favorite look since with the glasses and all i tend to fit it well

but it's not all rainbows and unicorns in josie land – i ended up blowing all my extra cash on the shoes and i'm too in love with them to return them. (stupid girl drama!) i had originally gone "therapy shopping" to pick up a few new bathing suits but obviously i got a little sidetracked. my friend Noahped Photography is going to be in town for Exxxotica Miami next week and we were planning to do a photoshoot of me on the (topless) beach. phooey! maybe you'd like to buy me a forever 21 or victoria's secret gift card so i can pick out a new suit to wear on the shoot? i'd be sooooo happy!
P.S. Thanks so much to everyone who voted for me in the IndieUndies poll. I ended up winning and I'll be sending in some new undie pics (and maybe evn some video!) to the site ASAP!
If you enjoyed this post, maybe you'll like this stuff too: