20 Feb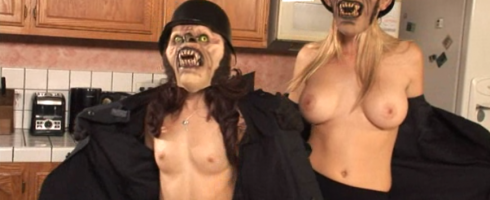 Before we get to the real post, I made a new Facebook page for myself so please "Like" me on there! Thanks!
Parody porn has been around for a very long time now (Edward Penishads is a timeless classic of the genre. The spagetti-eating scene gets me every time.) but in the past few years the genre has overtaken much of the market. While some of them have been quite good (Vivid's Batman XXX is certainly a standout – click here to see my post about it) most have been pretty terrible. When I received the following trailer in my email at work I was perplexed… was the director completely unaware how terrible it was, did they simply not care if it was good or not, or were they trying to be bad on purpose? One of the fellow managers and I watched it a few times in a row, pausing and rewinding to replay certain parts and after multiple viewings we still weren't sure.
BEHOLD…. AN AMERICAN WEREWOLF IN LONDON – A XXX PORN PARODY: click here for the windows trailer, here for the quicktime trailer, or here for the ipod/iphone version. I tried to embed it on here but the file was too big and i ran out of patience trying to compress it. And if you don't feel like watching the video here are my favorite screengrabs from the trailer…
An American Werewolf in London – A XXX parody stars Jessie Andrews, Brett Rossi, Lexi Ward, Riley Jensen, Sophie Dee, and Valerie Fox, with Dane Cross, Anthony Rosano and Richie doing the dickin'.